Importance of accurate measuring and recording of intake and output (I&O)
Refer to Ch 15
Intake and Output-Click Here
Information helps to monitor the medical treatment of a resident's disease (for example the effects of a diuretic medication or progression of a condition with fluid retention).
Intake and output measurements are used by the physician to make a diagnosis or to decide the kind and amount of medication to prescribe. Accurate measurement and recording is vital.
Methods to measure and record fluid intake
Liquids and foods that are liquid at body temperature are included for intake measurement.

Nurse will measure other fluid intake from sources such as IV tubing or a tube feeding.

Unit of measurement is the milliliter (ml.). Another name for this volume is cubic centimeter (c.c.).

Facility will usually have a listing of the volume of its standard mealtime food containers.
Using this list for reference.  A CNA can estimate the volume of liquid consumed. Accuracy is the result of paying attention.
CNA may need to convert measurement in ounces (oz.) to milliliters (ml.).  Refer to you textbook pg 229-230.
CNA must ask for assistance if unsure of how to estimate measurement or convert systems of measurement.

Record the intake consumed at end of each meal or snack, and when bedside water glass is refilled.
Total the amounts of fluid at the end of each shift and at the end of the 24-hour period.
Variations from the usual amount of fluid intake
Encourage fluids: goal is to increase oral fluid intake. Methods are listed in previous reading. You cannot force fluids to residents.
Restrict fluids: described in previous reading unit. 24 hour intake is limited to a doctor who prescribed the "X" amount of cc's a shift. 
NPO: nothing by mouth. Resident has no oral intake of food or fluids

Some residents may have a doctor order to have nothing to eat or drink after midnight. This can be due to certain procedures that must be done.
Sometimes the resident might be nauseated and vomiting and fluids may be held a few hours. This must be done only by doctor orders.
Methods to measure and record fluid output Refer to pages 268-270 in textbook
Fluids measured and recorded

Usually include urine and emesis-(measure all)
When resident is incontinent a CNA needs to record the number of times incontinent

Collecting urine to measure

Female resident will void into bedpan or specipan placed under seat of toilet or commode. Measured after each voiding or urination with a graduate (measuring cup). Record measurement with each voiding or urination.

Male resident will urinate into urinal. Measured after each voiding or urination with a graduate (measuring cup). Record measurement with each voiding or urination.

If resident has urinary catheter, urine will collect in a drainage bag. Is measured in graduate at the end of each shift. Special care required to prevent introducing microorganisms into drainage system. Review pages 200-202 for step by step instructions in your textbook.

Total the amounts of fluid output at the end of each shift and at the end of the 24-hour period.
When resident is incontinent it should be recorded the number of times incontinent.
Record each voiding or emesis.
Measuring and recording fluid balance - intake and output Refer to your textbook on pg 268-270
Fluid balance and imbalance

Fluid balance: body equalizes amount of fluid taken in with amount of fluid excreted via urination, feces, perspiration, and breathing.

See page 270 in textbook.

Fluid imbalance:

Too much fluid retained in body is called edema
Too much fluid lost is dehydration which can result from vomiting, diarrhea, bleeding, excessive perspiration, fever.

See page 270 in textbook

Recognize and report symptoms of dehydration such as dry mucous membranes, decreased or little urine output or dark concentrated urine. Also check skin turgor (the inability of the skin to return to its normal shape when it is squeezed or gently pinched). If skin returns to normal shape, resident is not dehydrated.

Importance of measuring fluid intake and output.

Physician's diagnosis and treatment may depend on accurate measurement of intake and output.
Measurement of intake and output can monitor progress of treatment or of a disorder (i.e. effects of a diuretic effects of kidney disease)
Abbreviation for intake and output is called I & O for recording purposes.

pg 268

Procedure for measuring and recording fluid intake

Refer to page 269-270 for step by step instructions
Unit of measurement is cc (cubic centimeter) or ml (milliliter)
Observe and measure all fluids taken by resident
May use list of volume contained in adult care home- standard food containers to estimate fluid intake rather than measuring each liquid.
Fluids include those foods which are liquid at body temperature.
Total the amount of fluid taken in at the end of each shift and at the end of 24 hours.
Assisting resident with elimination
Actions by the CNA

Understand resident's regular toileting habits.
Provide for privacy by closing door and/or curtains and by covering resident.
Use good body mechanics and lifting devices as appropriate.
Use standard precautions while assisting the resident with urination or voiding and defecation.
Make sure resident can reach toilet paper.
Provide access to call signal if CNA is not at resident's side. Answer call signal quickly.
Assist resident in providing for good skin care/perineal care following voiding or defecation, wiping from front to back.
Assist resident with handwashing after voiding or defecation.
Do not empty urinal, bedpan or flush toilet if urine or feces look unusual. Notify nurse.
Bedside commode or toilet, including:
A bedside commode is a movable toilet that does not use running water. It looks like a chair with a toilet seat and has a bucket or container underneath. This container can be removed for cleaning after the commode is used. A commode can be used beside the bed if a resident cannot get to the bathroom. The commode may have wheels so that it can be rolled away when it is not needed. The wheels should be locked when in use, to prevent the chair from moving. Residents who can get out of bed but cannot walk to the bathroom may use a portable commode. See page 194 in textbook.
Close door and/or curtains for privacy
Assist resident onto toilet/commode making sure resident is positioned safely and comfortably.
Resident position

Upright position is more familiar, usually easier for resident.

Comfortably seated. Males usually prefer to stand to urinate or void.
A riser may be placed on the toilet seat to assist the resident to sit and rise up from the toilet.

Stay with resident as necessary for safety. Do not restrain resident on commode or toilet.
Time to allow resident to remain on commode or toilet – Follow facility policy. Check in at least 10 minutes, assisting from toilet after 20 minutes unless directed otherwise by nurse.  Prolonged pressure may cause pressure ulcer.
Assist resident with cleansing, clothing, comfort and positioning, encouraging self care as resident tolerates.
Cover commode bucket while carrying to toilet to dispose of contents. Clean bucket before replacing.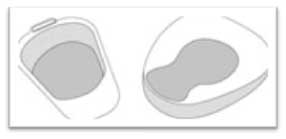 Bedpan
There are several different kinds of bedpans and urinals available. Some are metal and others are hard plastic. There are bedpans for people who cannot raise their hips. This may include people with hip fractures or in body casts. Some urinals are made for men and others are made for women. Some are reusable and others are thrown away after use. The reusable ones are used by the same person, but need to be washed and disinfected (germ-free) after each use. This can be done using soap and water and then a liquid such as bleach to kill germs.   Follow your facility protocol.
Urinal
Constipation means that a person has three or fewer bowel movement in a week. The stool can be hard and dry. Sometimes it is painful to pass. The stool can be hard and dry. Sometimes it is painful to pass. At one time or another, almost everyone gets constipated. In most cases, it lasts a short time and is not serious.  However, it proper action is not taken worst case scenario is it can be deadly.  Constipation occurs when the feces move too slowly through the intestine. This can result from decreased fluid intake, poor diet, inactivity, medications, aging, disease, or ignoring the need to eliminate. Review chapter 17 in textbook.
Symptoms

Record of no recent BM
Abdominal distension, flatus (gas)
Abdominal discomfort, agitation, irritability
Review page 211 in text to compare the difference in a fecal impaction and diarrhea.
Straining when assisted to toilet
Resident may use fingers to extract feces.
Confusion, agitation, change in behaviors
Temperature elevation
Decreased appetite
Measures to relieve constipation
Increase fluids, especially water and non-caffeine fluids if possible.
Diet containing bulk, such as whole grains (as discussed earlier), fruits, vegetables, legumes.
Increasing exercise and activity
Prompt response to natural urge usually after a meal
Laxatives, stool softeners

Administered by med aide or licensed nurse with doctor's order. May not be given by CNA.
May be given orally or by suppository
Must provide timely toileting for resident when these are used.
Enema with doctor's order
Dr may review current medication list as drug can cause constipation.
Care for resident who has been incontinent of urine or feces. Incontinence is the inability to control elimination.
Residents who are incontinent need reassurance and understanding. Keep residents clean, dry and free from odor. Give good skin care. Urine irritates the skin. It should be washed off completely by bathing and good perineal care. 
Skin care and incontinenceClick Here